How do you grade heart?
Should basketball expand their categories and add things like… chokes per game (CPG), shots passed up per possession (SPUPP) or here's a favorite – fuck ups per game because the bright lights made you a pussy (FUPGBTBLMYAP).
I know Skip Bayless is a journalist and for years I get a lot of his bias. The dude is near his 70s and has seen his share of action. If he scours the net and finds this blog post, I doubt if he'll even answer this because number one, I am a no-namer who is blogging to de-stress from work… number two, I can't fight him on debate because I suck in public speaking… and number three, I am just here for the views, man!
So yeah, Skip can hate Lebron James and Kawhi Leonard for all he cares because that is his bias. He is a fan and being butt-hurt personally is a human being quality.
But let's not pass this as facts.
Leonard could have had a moment or a couple of moments where he lost his heart but you can't pass this around as a journalist. I know Leonard didn't single-handedly tow the Raptors to the Promised Land because of guys like Kyle Lowry, Fred VanVleet, Serge Ibaka, Pascal Siakam and others but the guy did work his ass off to prove to everyone that this season isn't just about his *cough* "rental" status.
That is NOT how journalism works.
In some ways, that's not even how investigative journalism works because well yeah, sitting in some desk in front of the camera just makes the on-air person an opinionated presenter.
Two things need to be in play for flawless journalism to come into fruition – you need first-hand information from primary and secondary sources… and a shit-load of research… with enough dose of sensationalism.
How enough is enough sensationalism?
I think it's probably when some dude accuses you of being a hater.
And then there's media sensitivity. A reporter's job is to seek the truth and at the same time protecting the subjects from whatever shit this could lead to.
For example, if Bronny James gets bullied for the things he said to Lebron, can Skip properly live his life knowing full well that in some ways he made the situation even crazier?
Without a one-on-one interview with Kawhi Leonard or Lebron James in their current modes, you can't always address Kawhi as a man with no heart and you can't always say that Lebron is a master manipulator.
Well, okay… I guess there's something right to say as far as the
Anthony Davis
incident came and went because up to this day, we have had a lot of people sucked into the situation and same news bites have raised a tolerable amount of suspicion. When the tampering was first reported, we were indulged with facts and speculation in which a couple of primary sources like James,
Rob Pelinka and Magic Johnson
sharing what they got to say. Heck, even
Kobe Bryant
was dragged in this snafu! But while sure, some of those facts are hazy… but it is far better than let's say… Toronto moves on the NBA Finals to meet
Golden State
because Kawhi Leonard got lucky.
LUCKY?!?
Look, I also have a Skip Bayless in me. I always cringe at the sight of Aljon Mariano wearing the Ginebra colors after his uneventful UAAP Finals stints. But I am doing this as a fan – and not because of some wacky excuse of being a journalist. I am a butthurt fan without any solid fact other than when the game is on the line, Mariano all of a sudden became a basketball newbie. And what sucks is… yeah, he's playing well as a Ginebra Gin King. He has outlasted Jeric Teng and Jeric Fortuna in the PBA and he even had all-important clutch baskets to help Ginebra win championships. Why can't he play like a boss when he was at UST? Is he that afraid of Tim Cone because he is following his orders unlike when he ambushed the play Pido Jarencio designed for Karim Abdul?
I also hate Dino Aldeguer – because he had ice on his veins when he hit that shot in 1999. I was at my friend's house because the Cuneta Astrodome had too many students and alums. We ended the match either crying or sadly gulping down alcohol. I studied in UST from 1998 to 2002 and that was my best chance to witness a championship parade.
This leads me to Shannon Sharpe. The thing I like about how he presents his facts is not like that of Bayless or I guess Max Kellerman at times and even Rob Parker in a lot of situations. When he dishes out his Lebron James bias, you KNOW he's presenting himself as a superfan. There is nothing wrong with that. And I guess yeah, at least Skip Bayless wasn't confrontational when CJ McCollum tweeted him to quit with the Kawhi Leonard hate (although Skip had a lot of CJ comments). He answered the tweet live by saying he is a San Antonio Spurs fan and he is deeply disappointed when Leonard bailed on the squad with a preferred destination even if he has a year left in his contract which is why he is in this situation in the first place.
But you can do this as a butt-hurt superfan.
You can't be a journalist if the facts you present are maligned.
If you feel betrayed by Kawhi Leonard, then you should also understand that Kawhi Leonard was betrayed by the Spurs. Yes, he was groomed to be the star... but was he treated as A star? I am pretty sure that the Tony Parker injury dig was the last of many hurtful things they said to Kawhi that led to his departure.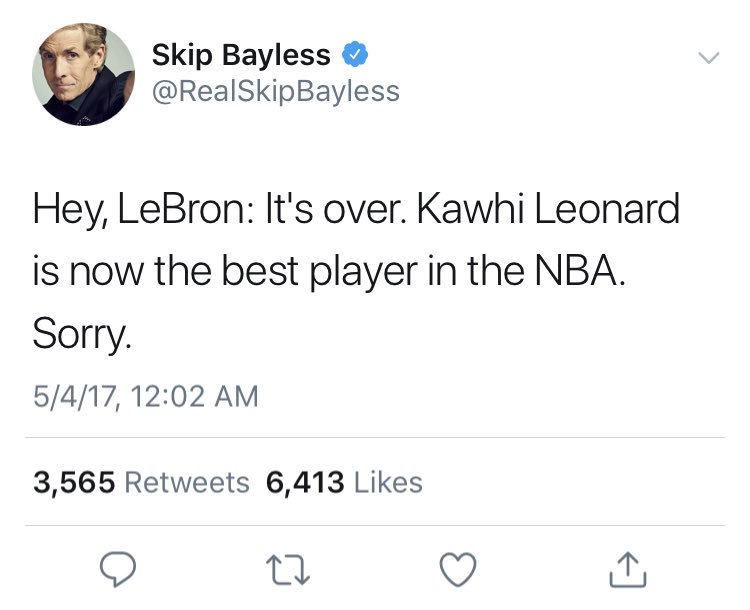 You can be a host… a broadcaster… or an on-air presenter… but you can't pull out the journalist card if you just want to hate on a guy. And this is the same case as when you use your journalism card to tell the world that Manu Ginobili has a better pro career than Dirk Nowitzki. Ginobili may be the better player in international tournaments but in the NBA, Dirk had the better road to glory with tangible individual accomplishments to show.
And let me just say as I re-watched the old Skip Bayless and Stephen A. Smith versus Jalen Rose versus (kind of) Cris Carter debate on First Take, the thing when SAS said that not everyone can be a journalist hasn't aged well. In fact, the current social media structure makes almost everyone with a handheld device a local reporter. We have seen a lot of media outlets use cellphone recordings to further accentuate a situation because of the richness in data.
Also back then, fake news isn't a thing.
So the cool image I used at the start of this piece came from Ben Swann's YouTube channel.
Click the video because it's awesome.
Also, here's someone from citizen journalism.
END